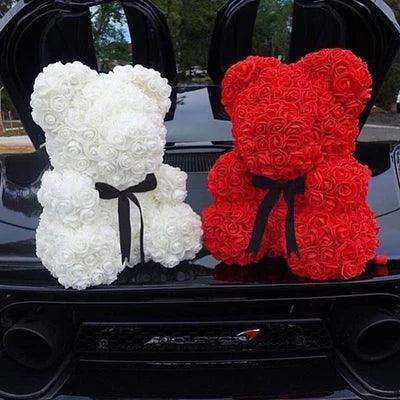 Why gifting a teddy bear is so special?
        Gifts are always special it doesn't matter what or who gave them to us. Numerous studies have been conducted on the calming and soothing qualities of plush teddy bears. Even as adults, our teddy bear provides us with comfort. In business, bringing the bear into the equation means that your partner will always seek comfort and peace from this gift. And I'm going to love you even more.
Teddy bears are incredibly lovely, soft, cuddly, and fluffy! Holding onto a teddy bear makes it easy to fall asleep. They are the most cuddly and mushier friends we've ever had. Give it to someone you care about to brighten their day and lift their spirits with joy. Teddy bears are also the best listeners about your day or problems.
Teddy bears are a very traditional and classic item that is frequently given to young children as a gift. People continue to value them as a necessary component of growing up because they offer comfort, company, and a friend. Teddy bears are frequently our very first friends in life and, aside from our parents' warm embraces, are the go-to object for comfort and cuddles in times of need. The bear is offered as a token of affection and represents the giver's attachment to the recipient. Because the bear is constantly present and entirely predictable, it gives consolation when you're upset, lonely, exhausted, and out of sorts. You can transfer your emotions to your friend Teddy!
Giving a teddy bear as a gift to a child or special someone is a wonderful way to demonstrate your love, care, and affection for them. Nothing beats giving a teddy bear as a present to someone or a child. Yes, I do agree that every baby is different in terms of shape, appearance, and size, but the heart and innocence are the same. Teddy bears can give us a stronger sense of stability as we go from one period of life to another, or even from one home or job to another. Teddy bears are companions in your life that just want to comfort you in hard or happy times.
Small teddy bears are particularly endearing and cuddly, but enormous, giant bears may be equally endearing. For older children or even adults, this is about 90 inches tall and looks amazingly propped up in a corner or wherever in a kid's playroom. Huggable and just a delightful object to have about, the eight-foot bear is a good size. Unwrapping a life-size teddy bear on their birthday is sure to put a smile on their face! A giant teddy bear makes a fantastic gift for important occasions because they are constantly prepared to unwind, cuddle, and assist in opening more presents. Big-huge teddy bears are renowned for giving the best hugs thanks to their lengthy arms, heavy paws, and soft, squishable, soft, and cute bodies. You can rest on them and cuddle them when you have a long and tiring day.
Love is indescribable, but you express it with cute gifts. A lovely arrangement of flowers is a wonderful gift option. An adorable gift is a teddy bear. Now you can get two amazing beautiful extraordinary things in one gift.  You can find a rose-filled teddy bear at Rose Teddy Bear. So they can last forever; they are real roses. It is available in different colors and sizes, and they are homemade and look stunning and adorable. So get yours now before they're gone for your loved ones only athttps://flowerteddybear.com/.