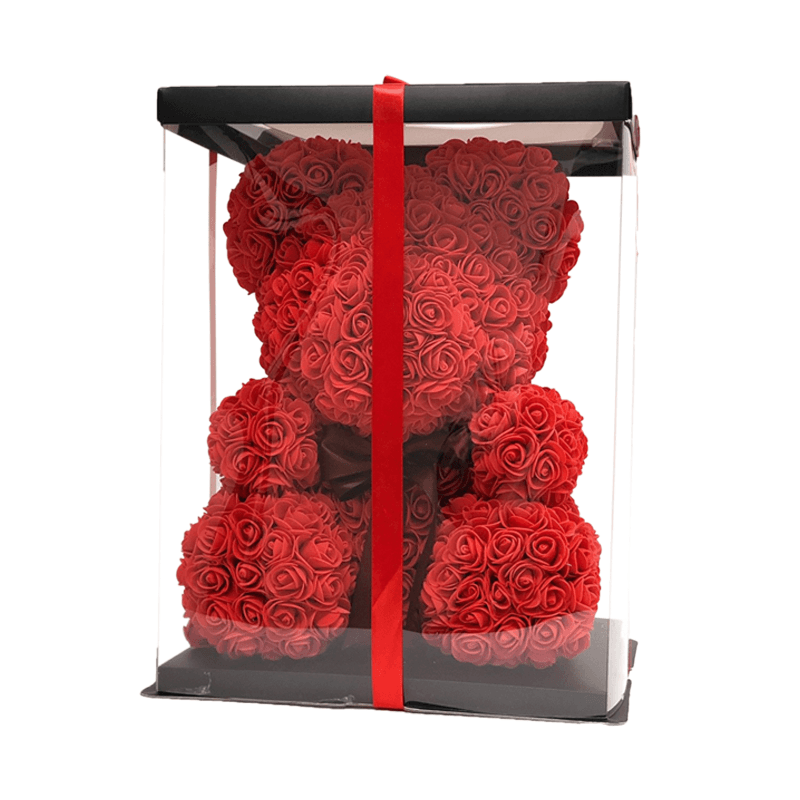 What do each color of flower mean/symbolize?
With Valentine's Day right around the corner, you may be wondering what to buy for your significant other. Flowers are a staple romantic gift, but there are so many to choose from! From blue flowers, to red, to white, each flower and colour has its own meaning. 
Luckily for you, our Flower Teddy Bears come in many shapes and colour variations. Keep reading this article to find out which colour flower you should buy, and what each colour symbolizes!
Blue Flowers
Blue flowers are extremely popular amongst shoppers and come in various shades and breeds of flowers. Popular flowers include the hydrangea, the delphinium, the iris, and the blue star anemone. Blue flowers symbolize trustworthiness, confidence, intelligence, unity, and calmness. Softer, lighter shades can represent an uplifting spirit, a bright sky, or a gentle ocean. When people buy blue flowers, it is often done to symbolize tranquility and peace.
Pink Flowers
Pink flowers symbolize happiness, grace, and gentility. Their soft, feminine colour also represents youth, innocence and joy. They are the perfect gift, especially for Valentine's Day!
Purple Flowers
Purple flowers can symbolize many different things, depending on their shade and arrangement. They can symbolize pride, dignity, admiration, or even love at first sight! Darker and bolder purple flowers often seem exotic, whereas light purple flowers leave a soft and sweet impression.
Red Flowers
Red flowers also come in many different shades, and represent different things. The colour red can boost someone's enthusiasm, and also bring out one's confidence. It can also help create a sense of protection. The colour red's symbolism can also vary depending on which part of the world you live in. This colour brings warmth as a decoration, and helps your garden feel larger. It also draws attention and makes people feel more comfortable. Red flowers can also symbolize love and passion, so they make a great Valentine's Day gift!
White Flowers
While white flowers are very simple, they are quite popular. They represent cleanliness and neutrality. As a decoration, they can bring out your home's minimalism and make your room appear less stuffy and cluttered. Thanks to their neutrality, white flowers go with anything, and are a great addition to your garden! 
White flowers also symbolize innocence and purity, which is why it is tradition to wear a white wedding dress!
Yellow Flowers
The vivacity of yellow flowers helps radiate a positive energy, and bring out people's joyfulness and creativity. This colour makes people feel cozy and feel more invited. This hue can encourage communication amongst people. It also has spiritual ties since it is the colour of the solar plexus chakra. Because of this, the colour yellow helps empower individuals and motivates them.
Orange Flowers
The colour orange brings warmth and positive energy to a room, and holds many meanings. It can stimulate appetite and activity levels, and encourage socialization. Orange flowers can bring drama and a pop of colour to a room.
Green Flowers
Green flowers represent positivity, so they make a great gift for anyone who is having a difficult time. They can bring individuals peace and tranquility. Because of this, they can alleviate depression and anxiety, and bring harmony and self-control.
Check out this link for more!